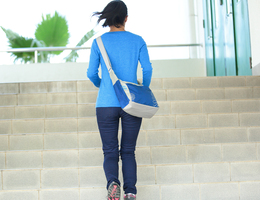 Sept. 14, 2023—You've probably heard it before: Being active is good for your health. Exercise helps lower the risk for many diseases, such as heart disease and cancer, and can help you live longer.
But what if you have a hard time fitting a workout into your daily routine? According to recent research, even short bursts of activity may offer big health benefits.
A recent study in JAMA Oncology suggests that even a few minutes of vigorous physical activity may significantly lower the risk of cancer. The reduced risk was especially dramatic when researchers looked at rates of 13 types of cancer that have been linked with a lack of physical activity. That includes bladder, breast, head and neck, kidney, liver, and lung cancers, among others.
Bite-sized exercise
The study, which took place in the United Kingdom, tracked 22,398 middle-aged adults who wore activity trackers on their wrists for several days during a seven-day period. The participants reported that they did not get regular exercise and took no more than one walk per week. But many of the participants' trackers recorded short bursts of activity—called vigorous intermittent lifestyle physical activity (VILPA)—as participants went about their days.
Most VILPA sessions lasted one minute or less. And 97% lasted just two minutes or less per burst.
Researchers wondered if those short spurts of exercise could help reduce the risk of exercise-related cancers. To find out, they tracked the participants' health data for about seven years.
Here's what they found:
VILPA sessions that totaled just 3.4 to 3.6 minutes per day were linked with a 17% to 18% drop in total cancer risk.
Median daily VILPA times of just 4.5 minutes were associated with a 31% to 32% reduction in activity-related cancers.
Those short sessions of increased activity had significant benefits. However, the researchers noted that vigorous, short bursts of activity shouldn't replace a regular exercise program. VILPA also doesn't replace the recommended 2.5 hours per week of exercise.
Work in more daily activity
You don't have to have a gym membership, gear or special clothing to benefit from physical activity. Even short bursts of vigorous exercise—like hurrying to catch a bus—may have health benefits. How do you know if an activity is vigorous? Listen to your body. During vigorous activity, you'll breathe hard and feel your heart rate increase.
To get the most benefit from your physical activity, it's best to make it a habit. It's important to ask your doctor for advice before starting any exercise routine. But most adults should aim for at least 150 minutes of moderately intense activity per week.
That doesn't mean you have to make room for a lengthy workout, though. It's fine to get that exercise in short bursts. Here are a few quick ways to fit more fitness into your day:
Walk as briskly as you can for 10 minutes. Swing your arms to get your heart rate up.
Climb the stairs instead of taking the elevator.
When watching TV, jog in place or do jumping jacks during commercials.
Are you having a hard time starting or sticking to an exercise routine? Check out our interactive tool.
Sources