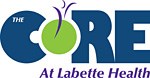 Welcome to The CORE's Medical Based Fitness and Aquatics Center!
We take your health seriously and attempt to help you minimize health concerns naturally and healthfully. Research has shown that exercise helps lower health variables such as high blood pressure, high cholesterol and high triglycerides. With that in mind, we first acknowledge your medical necessity for exercise and consult with your physician to make sure it is indicated.
Upon your physician's consent, we take a brief medical history and review your health goals. At this point we take relevant baseline measurements, such as height, weight, blood pressure, body mass index and girth measurements. We then design a program tailored to meet these goals.
We hope you take a minute to come out and visit our facility. Please feel free to contact us with any questions: 620.820.5910 (fitness area) or 620.820.5909 (aquatics center).
CLICK HERE for February's Open Swim Hours
CLICK HERE for 2023 Aquasize Classes
CLICK HERE for 2023 Learn to Swim Classes