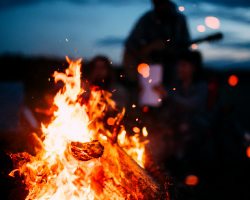 July 12, 2021—Did you know that 90% of wildfires in the U.S. are caused by people? All it takes during hot, dry and windy weather is a campfire left smoldering. A chainsaw sending sparks into dry vegetation. A running car or truck setting dry grass ablaze.
With fire season in full swing, now is the time to take a few commonsense precautions to prevent setting off a wildfire. Start with these tips from the U.S. Department of the Interior and the American Red Cross:
Follow local fire regulations. Officials in fire-prone areas keep a careful watch on the weather conditions and issue a fire ban when necessary. Before building a fire, check with local authorities about whether open burning—campfires, charcoal or wood grills, burn piles, etc.—is permitted.
Practice campfire sense. Always use a metal fire ring or a fire pit surrounded by stones. Never leave the fire unattended, especially overnight. Before leaving, douse the fire with water so that it's completely cold. Then smother it with dirt.
Burn yard waste safely. Use a 50-gallon drum or fire pit, if you can, to contain the fire. Stay close from start to finish with a water hose at the ready. Before leaving, douse the flames and embers with water, stirring the ashes as you go, and finish by throwing dirt on top.
Play it safe with fireworks. First, check for local regulations about whether fireworks are permitted and how to use them safely. Never set off fireworks close to buildings or near dried vegetation. And keep a bucket of water, garden hose or fire extinguisher handy. When the show is over, be sure to douse used fireworks to make sure they are completely out.
Take care when smoking. If you smoke, put used matches and butts in a closed container or a cup of water when you're done, not out the window or on the ground. And, of course, keep lighters and matches away from children. Even better: Make a plan to quit.
Don't throw sparks. In fire season, don't drive or park over dry grasses. Exhaust can reach temps of more than 1,000 degrees and will quickly spark grass fires. Keeping your truck or car properly maintained can also help prevent sparks. The same goes for chainsaws and other equipment. Avoid using them near dry vegetation.
Is your family prepared for a wildfire? Make a family emergency plan before you need it. It will ease your mind and help make sure you and your loved ones are ready to respond quickly if disaster strikes.