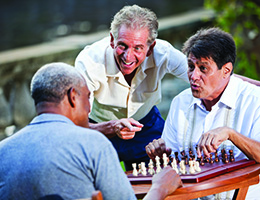 July 12, 2018—Loneliness isn't just a feeling in the figurative heart, like songwriters and poets often describe. It's an emotion that's bad for the heart—literally, new research suggests.
Previous research linked loneliness to higher rates of heart disease. Now, a new study finds people who already have a heart problem may be more likely to die early if they live lonely lives.
The study, done in Denmark, involved people with a variety of heart conditions, including coronary heart disease, arrhythmia (abnormal heart rhythm), heart valve disease and heart failure. To determine if the participants felt lonely, researchers asked them questions like Do you have someone to talk to when you need it? and Do you feel alone sometimes even though you want to be with someone?
Lonely people had up to double the risk of premature death, according to the study. They also had more anxiety and depression than those who weren't lonely. Another key point: Feeling lonely seemed to pose a bigger risk to people with heart problems than living alone. You don't actually have to live alone to feel alone, one of the study's authors explained.
Shore up your social network
The findings were presented at EuroHeartCare 2018, the European Society of Cardiology's annual nursing congress. Along with other research, they help paint a picture of the importance of maintaining meaningful relationships. Major life changes—like health problems, retirement or the death of a spouse—can erode those connections over the years.
So if you're lonely, don't hesitate to tell your doctor, particularly if you have a heart problem. And consider the following tips—from the American Geriatrics Society's Health in Aging Foundation and other experts—for growing or maintaining your social network:
Ask a friend over for coffee or lunch on a regular basis. Or have a phone date if you can't meet in person.
Get involved in the community. For example, look into programs and activities at community or senior centers or places of worship. Volunteering is another way to meet people and help your community.
Take a hobby class—for example, photography or pottery. Public libraries may offer learning opportunities too.
Join (or start) a neighborhood walking group. Exercise is a good way to meet folks—and of course, it's good for your body too. Ask your doctor what types and amounts of exercise are best for you.
Learn more about heart health by visiting our Heart Health topic center.