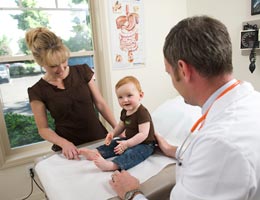 Aug. 8, 2017—Measles is a very contagious and sometimes deadly disease caused by a virus. It's been eliminated from the U.S. since 2000. But it still exists in other parts of the world and travelers can bring it here. Infected people can quickly spread the virus by coughing or sneezing.
A recent measles outbreak in Minnesota shows the importance of vaccinating kids. The Minnesota outbreak started when one unvaccinated child caught the measles. Then the disease spread quickly to other kids who were exposed in places like childcare centers and schools. Nearly all of the people who got measles hadn't been vaccinated.
Most of the infected were U.S.-born children of Somali descent. Measles vaccination rates in this group used to be high. But autism fears caused a drop in rates. Those fears aren't accurate. The measles-mumps-rubella (MMR) vaccine is safe, and studies show no link between vaccines and autism.
You can read more about the outbreak on the Centers for Disease Control and Prevention website.
Ask your child's doctor about vaccines
Skipping the MMR vaccine puts your child at risk for getting the measles. More parents in Minnesota are getting their kids vaccinated in response to the outbreak. You should do the same. Two doses of the vaccine are 97 percent effective at preventing measles.
Talk with your doctor if you're unsure whether your family is fully protected against the measles. To learn more facts about vaccines and kids, take this quiz.